Try This Delicious Hush Puppy Recipe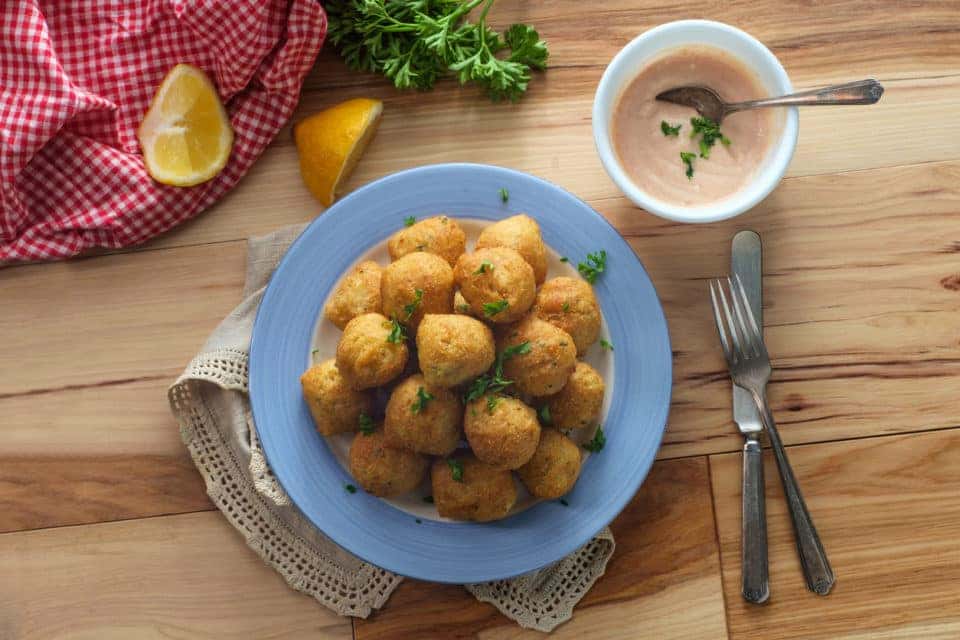 Though hush puppies might involve a bit more time and effort than most weeknight side dishes, they're always worth it! There's hardly a meal they don't complement, so whip up a batch this week!
Ingredients
1 cup cornmeal – white cornmeal will be sweeter, yellow will be much less sweet
1 cup all-purpose flour
1–2 tablespoons sugar – to taste and sweetness preference
1/2 teaspoon baking soda
1/2 teaspoon baking powder
1/4 teaspoon Cajun or Creole seasoning
1/4 teaspoon sea salt – more if you prefer savory hush puppies
1/2 cup milk
1/2 tablespoon white vinegar
2 tablespoons vegetable oil
1 egg
3 tablespoons grated onion
Oil for frying (canola, vegetable, or peanut)
Variations
Want to kick up your hush puppies a bit? Try adding 1 tablespoon of minced jalapeño and 1/2 cup finely shredded cheddar cheese; 1/2 cup of thawed frozen corn and 2 minced scallions; or 1/2 cup of finely grated Gouda and 2 tablespoons of chopped chives to your hush puppy batter.
Method
In a large mixing bowl, whisk the cornmeal, flour, sugar, baking soda, baking powder, cajun seasoning, and salt together in a large bowl, adjusting the sugar and salt to taste. In a separate bowl or spouted measuring cup, combine the milk and vinegar and let it sit for 5 minutes. Then, add the vegetable oil, egg, onion, and any variation ingredients you're using, whisking to combine.
Add the wet ingredients to the dry and mix gently until the mixture is just incorporated. Let the batter sit while you heat the frying oil to 365 degrees, using a candy or instant-read thermometer to monitor the temperature. Use two spoons to scoop and shape the batter into tablespoon-sized portions, pushing the hush puppies into the oil as you scoop them. Fry for 3-5 minutes until golden brown, then drain on paper towels and serve hot.
You might also like: How To Properly Care For Your Cast Iron Skillet
Hush Puppy Dipping Sauce
If you want to take your hush puppies to the next level, serve them with this dipping sauce! Sometimes called burger sauce, sometimes called Southern Comeback Sauce, this accouterment is a mixture of mayonnaise, ketchup, hot sauce, Worcestershire sauce, Cajun seasoning, and honey. It's savory, tangy, sweet, and a bit firey — the perfect complement to the richness of hush puppies.